Melinda Chen
---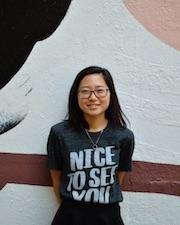 Biography
—
Melinda Chen, PhD (she/her) is an Assistant Professor of Women's and Gender Studies at the Unviersity of Oklahoma. Dr. Chen is an interdisciplinary advocate-scholar who specializes in trauma-informed and healing practices in her research and in the classroom.
Dr. Chen's scholarship examines sexual violence, queer of color critique, public policy and health, welfare reform, and feminist and queer/ing methodologies. She is currently working on two book projects, Killing Radicalism: Neoliberalism, Normativity & the Anti-Rape Movement (single author) and The Reckoning: Indigenous Messages from the Anti-Rape Revolution (co-authored with Sarah Deer). Her first book project draws on queer of color critique as a theoretical framework to examine the people who help survivors of sexual assault, victim advocates, in intersectional and queer ways. The book makes the argument that advocacy has disparate, re-victimizing effects on marginalized survivors (e.g., BIPOC, LGBTQ+) when post-rape services are bound to neoliberal conditions. Her second book project, co-authored with sexual violence studies expert Sarah Deer (Muscogee Creek), examines how Native women and Two Spirit survivors of rape and hate crimes conceptualize justice to develop tangible tribal legal remedies to rape.
Dr. Chen teaches in the areas of feminist and and queer/ing methodologies and theories, violence and crime, social justice, and LGBTQ+ studies. She also has experience teaching in the field of transnational and globalization studies.
Dr. Chen received her PhD and MA in Women, Gender, and Sexuality Studies from the University of Kansas and her BA in Global Liberal Studies, concentrating in Law, Ethics & Religion, from New York University.