Jeanne Vaccaro
---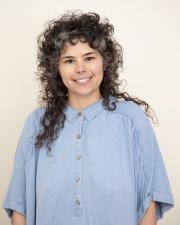 Biography
—
Jeanne Vaccaro is a scholar and curator. Her book in process, Handmade: Feelings and Textures of Transgender, considers the felt labor of making identity, and was awarded the Arts Writers Grant from the Andy Warhol Foundation. She is also the recipient of the Alan Bérubé prize for outstanding LGBT public history awarded by the American Historical Association, and her research has been funded by the Getty Foundation, Council on Library and Information Resources, and the Trans Justice Funding Project.
She is co-editor, with Joan Lubin, of a special issue of Social Text on the afterlives of American sexology. She has published scholarly writing in GLQ, Radical History Review, and Journal of Modern Craft, and art criticism in Trap Door and BOMB Magazine, as well as exhibition and museum texts. She was a Queer | Art curatorial fellow, and serves on the advisory board of the NYC LGBT Center's archive. With AJ Lewis she co-founded and co-organizes the New York City Trans Oral History Project, a community archive partnership with the New York Public Library.
Education
Jeanne received her Ph.D. in Performance Studies at New York University under the mentorship of José Muñoz. Before joining KU, she was the inaugural scholar-curator at the ONE Archives. She has also held research appointments at the Kinsey Institute, the University of Pennsylvania, and UC Davis.