Abraham Weil
---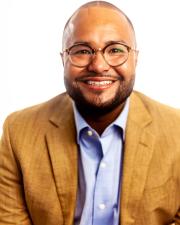 Assistant Professor
General Editor, TSQ: Transgender Studies Quarterly
Biography
—
Abraham Weil is an assistant professor of Women's, Gender, and Sexuality Studies at University of Kansas and the general editor of TSQ: Transgender Studies Quarterly published by Duke University Press. His training is situated in transgender studies, art and aesthetics, critical animal studies, psychoanalysis, Marxist geography, and black studies. He serves as the inaugural booklist editor in "Transgender Theory" at Bloomsbury Press and is currently co-editing two textbooks: Transgender Theory (Bloomsbury) and Feminist Studies: Foundations, Conversations, Applications (Routledge), and co-authoring the second edition of A Critical Introduction to Queer Theory (NYU Press). His current manuscript projects include: Transmolecular Revolution: Trans*versality and the Mattering of Political Life which focuses on revolutionary political formations, anti-black racism, trans theorizing, and continental philosophy in the US and France from the 1960s to the present and On Jargon which focuses on the language of contemporary black intellectual production.
Education
Ph.D., Gender and Women's Studies, University of Arizona
M.A., Gender and Women's Studies, Rutgers
B.A., Gender and Women's Studies, University of Redlands
Research
—
Teaching
Teaching Interests
Continental philosophy
Transgender theory
Sexuality
Black political movements
Aesthetics
Feminist theory
Queer theory
Psychoanalysis
Foucauldian biopolitics
Abolition
Research
Research Interests
Gilles Deleuze and Félix Guattari
Poststructuralism
Marxism
Revolution
Black trans feminist theory
Service
Abraham has served in several capacities with a focus on domestic violence prevention, LGBTQ youth services, HIV/AIDS services and LGBTQ healthcare, and sustainability efforts. Most recently, he serves as a board member at Radiant Health Centers, an LGBTQ healthcare center in Irvine, CA and as a member of the Black Academic Council for the Committee for a Greater Los Angeles.
Selected Publications
—
Weil, Abraham B., Nikki Sullivan, and Katrina Jaworski eds. A Critical Introduction to Queer Theory, Second Edition. Edinburgh: Edinburgh University Press. Forthcoming 2023.
Weil, Abraham B. "Transmolecular Revolution," in Trans Studies in Deleuze and Guattari: A Schizoanalytic Application​. New York, NY: Bloomsbury Publishing. 2021.
Weil, Abraham B. "Cosmopolitics in Drag," in Making Middles Matter: Feminist Methodologies in-between New Materialisms and Intersectionality. New York, NY: Routledge Press. 2021.
Weil, Abraham B. "Transversal Animacies," in Tranimacies: Intimate Links Between Animal and Trans* Studies. New York, NY: Routledge Press. 2020.
Weil, Abraham B. "The Phenomenon of Forgetting," in Studies in Gender and Sexuality. Volume 22. 2020.